Nothing Is Built as Strong as a Bell Truck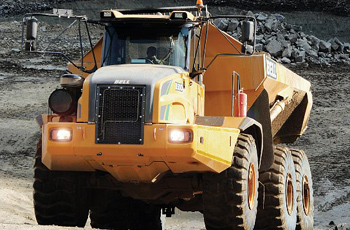 Built smarter to work harder, these lean machines boast the material moving muscle you need without the mass to feed.
Their lower mass reduces power tain and structural stress. Other up-time – boosting features include enhanced diagnostics, solid-state sealed switches and re-inforced articulation joints to list but a few. When you know how they're built, you'll run a Bell.
All round versatility
Possible to operate in a variety of ground and weather conditions
Active suspension and wide wheelbase for best stability and traction
Designed for heavy duty mining and equally at home in large construction
Different body configurations for a variety of applications
Standard on board weighing
Largest production ADT available
Request a Quote
Gross Power: 510 HP
Gross Torque: 1,770 FT/LBS
Rated Payload: 100,090 LBS
Key Features:
ROPS/FOPS certification
Protective rear window guard
Tilt cab for service access
Gas strut supported door
Tinted safety glass
Sliding windows
Rear view mirrors- regular and wide angle
Electrically adjustable rearview mirrors – one per side
Sun visor
Wiper/washer with intermittent control
Tilt and telescoping steering wheel
Adjustable, air suspension seat with retractable seat belt
Fold-away trainer seat with retractable seat belt
HVAC climate control system with filtered and ducted air
Rotating beacon
12 V power outlet/12 V cigarette lighter
Ash tray
Drinks holder
Cooled/heated lunch box
I-Tip programmable bin tip
Sound insulated to 76 dB(A) to ISO 6396
Radio/CD/Tape
Memory Module
Air horn
MDU Features
Operator / Site selected speed control
Tipping counter
Trip timer
Trip distance
On Board Weigh System (OBW)
Transmission gear selection
Fuel Consumption
Diagnostics
Intermittent wiper timing control
Speedo calibration for alternative tyre sizes
Metric /Imperial unit selection
Warning lights with audible buzzer
Gauges
Engine coolant temperature
Engine oil pressure
Transmission oil temperature
Fuel
Tachometer
Battery voltage
Hourmeter
Odometer
System air pressure
Vehicle
Ground driven emergency steering
Bin safety prop
Articulation lock
Integral transmission output retarder with 6 settings
Optional Features
(Factory or field installed)
Lincoln auto greasing system
Retractable sun visor
Exhaust body heating
Autogate
Body liners
Fleetmatic Satellite Monitoring System
Driver ID and immobiliser
Forward working lights
Artic reverse light
Fuel heater
External windshield visor
Headlight protection grills
Rear window wiper
Antenna mounting bracket
System for reverse camera
Wiggins quick fuelling system
Tire pressure monitoring
* standard specification for machines may vary according to region