If you want to know how the Bell ADT's performs in a rough, tough hauling environment, there's no one better to ask than Britton Griffith. His Houston, Texas-based Contracting firm has purchased a total of 12 Bell ADT's—and has put them to the test on a variety of challenging construction projects.
"I am 100% confident that I put my trucks to work in the roughest, toughest conditions, and the Bell's have been up to the task," Griffith says. "We're a high paced earthmoving contractor, and production matters in our business."
A "Stellar" Reputation
A civil engineer by training, Griffith started Sonora Construction, Inc. 10 years ago. The Company has grown into one of the most successful contractors in the Houston area, focusing mainly on new development projects.
Today, Sonora owns 12 Bell ADT's and keeps anywhere from 10-20 more on rent depending on workload. Backed by the Bell dealer in Houston, Four Seasons Equipment, Inc., Bell's reputation for quality is second to none.
Excellent Horsepower, Driver Comfort & Technology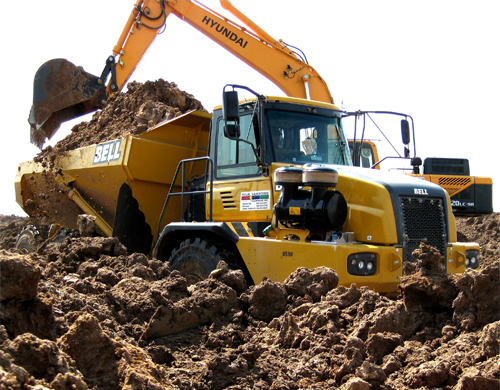 "Our operators love the trucks—they all know the excellent reputation Bell has," George Heines, VP of Operations says. "And they tell me they're intuitive and easy to operate, and they really like the ride."
As a business owner, Griffith likes the technology built into Bell Trucks—specifically Fleetmatic, Bell's asset and fleet management tool, and its web-based user interface. "We get production information from the standard on board weigh load system", says Heines, "we see what each truck produces and what the fuel burn is on a daily basis".
"It provides ongoing diagnostics on the trucks in real time, which has helped us identify problems before they end up costing us a lot of money," he says. "It's a very proactive system, which is a good thing in this type of business."
The Best Service Out There
In addition to purchasing his Bell Trucks from Four Seasons Equipment, Inc, Griffith relies on the dealership to keep them up and running.
"Three years ago, I had 5 trucks—today, I have more than 30," he says. "Our business has grown rapidly, and we don't have the shop or technicians to handle that much equipment. So we rely heavily on the dealer for service and support for all of our Bell Truck maintenance. They have a very good reputation and do good work."
"But even when there's a problem, Four Seasons and Bell service is still the best out there, bar none," Heines says. "I'd encourage anyone to give the Bell Truck a try. Take it on a Demo. I can tell you they're running laps around other trucks we've used, and I'll absolutely continue using Bell ADT's for our projects."