What operator wouldn't want to climb behind the wheel of a Bell ADT?
They are the BEST riding trucks on the job-site, and when other choices are available, operators come in early just to drive a Bell ADT.
Obvious reasons are the spacious, quiet, climate-controlled cab that's loaded with productivity-boosting comfort and convenience features that rival some SUVs.  They also love the state-of-the-art multi-function monitor, fully customizable controls, air-suspension seat, tilt/telescoping steering wheel, optional CD player with high-output speakers and a hot/cold cooler for drinks and food.  And that's just in the cab.  We have more built-in features that ensure a comfortable ride – check those out below.
Our Innovative Comfort Ride System
Unparalleled comfort. Our optional comfort ride system enhances ride comfort by ensuring minimal whole body vibration exposure. Productivity rises through increased cycle times and reduced haul road maintenance, additional benefits of the simple, but extremely successful system.  Long haul cycles with rough, hard roads will see maximum benefits, especially on unladen runs.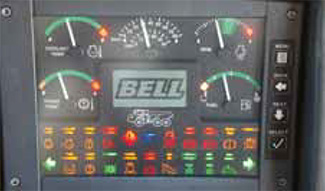 Intuitive Monitor
An intuitive monitor reveals vital operating information, detailed diagnostic readings of sensors and switches and dump body function settings.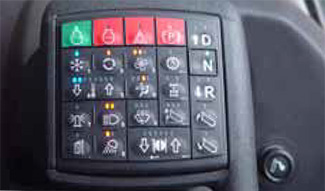 Sealed Switch Module
Convenient sealed switch module provides fingertip control of numerous productivty enhancing functions. Including: Dump body upper limit, Soft stop/hand stop selection, I-Tip and Speed Control.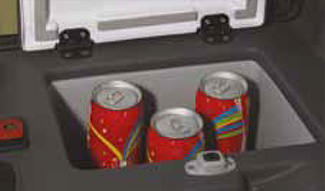 Convenient Cup Holders
Who says you can't take it with you?  There's a place for a coffee cup, in-door storage for an insulated flask or other carry-ons, and even a hot/cold box for refreshments.  Yes, there really is a cooler!
MORE Ways Bell Trucks Are Built for Operator Comfort:
Easy-to-understand instruments and intuitive controls wrap around the operator so they're easier to view and operate.

A fully adjustable air-suspension seat is optimally positioned behind the front axle to help smooth out the ride when the going gets rough.

You won't find retarder pedals or levers in a Bell Truck.  Retarder aggressiveness is simply set on the switch pad.  Everything else is automatic.

The adaptive transmission control adjusts clutch engagement to ensure smooth, consistent shifts throughout the life of the truck.

A heavy-duty bi-level climate-control system with automotive-style louvers keeps the glass clear and cab comfortable.

The spacious suspension seat and a comprehensive mirror package provide exceptional all-around visibility.

The standard sound-suppression package significantly reduces noise levels and operator fatigue.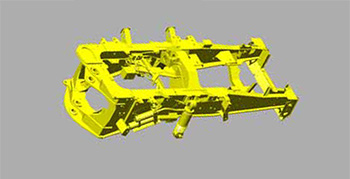 The front suspension consists of an A-frame layout, supported by two independent hydro-pneumatic suspension struts. The spring rate and damping is optimally tuned for a perfect combination of machine comfort and safe handling experience.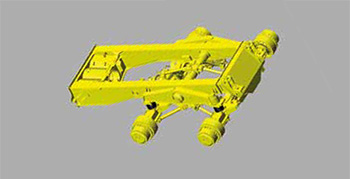 The Comfort-Ride option offers dual stage rubber blocks, which change the suspension characteristics to best match the laden and unladen haul cycles to maximize operator comfort.
Call Us Today for More Information: 855-BELL-ADT
Increase productivity with increased operator comfort!