B40D Articulated Dump Trucks
Nothing is built as strong as a Bell.
Built smarter to work harder, these lean machines boast the material moving muscle you need without the mass to feed.
Enhancements such as industry leading standards in fuel-efficient emission control, solid state electrical system, spacious cab with refined controls and you have everything you need to maximize uptime and productivity.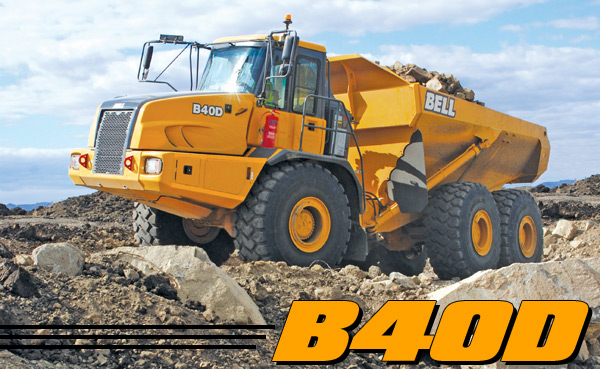 B40D Key Features
Established and reliable

The best-in-class payload-to-weight ratio means that more of your fuel cost is spent moving the material, not the machine – decreasing your cost per ton

Automatic retardation slows the truck when the operator backs off the accelerator pedal – for more confidence on steep grades and enhanced brake life

An industry leading, fully automatic six-speed planetary transmission with torque converter lock up maximizes fuel efficiency

Electronic unit injection fuel system provides high injection pressures even at low engine speed for improved cold starting ability, low-speed response, and reduced emissions

Designed for heavy duty mining and equally at home in large construction

Standard on board weighing

Fully automated controlled traction differentials and transfer case diff-lock provide a traction boost in poor underfoot conditions

High-travel suspension keeps all tires in constant ground contact for optimum traction
| B40D Specifications | |
| --- | --- |
| Gross Power | 335 kW/449 hp |
| Operating Mass | |
| Unladen | 28,850 kg/65,808 lbs |
| Laden | 66,851 kg/147,381 lbs |
| 2:1 Heaped Capacity | 23 m³/30 yd³ |
| Rated Payload | 37,000 kg/81,571 lbs |
Save