B35D Articulated Dump Truck
Bell ADTs give you the competitive edge.
Boasting faster haul cycles and industryleading fuel economy, they move material at the lowest cost per tonne of any comparable-size truck. Best in-class payload-to-mass ratio gives you more power and agility to carry the load, for maximum productivity and profitability.
What really sets these apart from other material movers is their ability to thrive on rough terrain, steep grades and mud.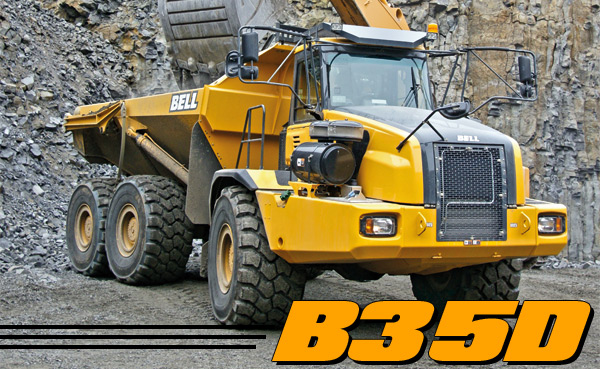 B35D Key Features:
Extensive use of high-strength, lightweight materials gives these trucks the best payload-to-mass ratios and hauling efficiencies in each class.

The redesigned sound-suppressed cab features fatigue-beating controls, advanced diagnostic monitor and a sealed-switch module for convenient, fingertip operation of numerous functions.

With their oscillating frame and high-floatation tires, Bell trucks won't leave you stuck on muddy, rutted or hilly terrain.

Fuel-efficient emission-certified engines deliver clean power without compromise in all conditions. Leading edge emissions technology ensures rapid engine response and dependable cold-start performance.
| B35D Specifications | |
| --- | --- |
| Gross Power | 295 kW/396 hp |
| Operating Mass | |
| Unladen | 28,230 kg/62,236 lbs |
| Laden | 60,730 kg/133,867 lbs |
| 2:1 Heaped Capacity | 20.5 m³/27 yd³ |
| Rated Payload | 32,500 kg/71,650 lbs |
Save